Marcus White has recently joined the Philip White Tyres Group in the role of UK & EU Sales Manager, with the aim of developing awareness and interest in Sunwide, a PWT-exclusive 'value' brand of car, van, and SUV tyres, as well as a network of significant tyre dealers and regional wholesalers who can take Sunwide tyres direct by the container.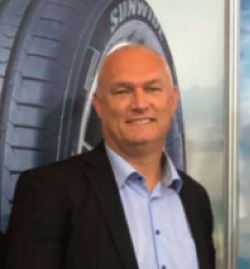 In addition to this, building relations and general sales of PWT Wholesale's comprehensive stock of tyres (including Truck, Agri, and OTR) into mainland UK and EU customers.
Marcus has over twenty years' management experience in the Tyre Industry, notably in Export, Marketing and Brand Management whilst at Goodyear Dunlop Tyres UK, and then Fleet Tyre Management both with Kwik-Fit Fleet and most recently Fleet Tyre Network.
"We are truly delighted to welcome Marcus to the Philip White Tyres Group" stated Liam White, Wholesale Director. "It is an exciting time for our business, Qingdao Sunwide Tyre Corp. Ltd have entrusted PWT to develop sales into Ireland for several years, and have now shown their faith and commitment by agreeing exclusive import rights to PWT for mainland UK".
More details on this can be gained by emailing your enquiry to sunwide@philipwhitetyres.com