After one of the most dramatic Cork 20 International rallies in recent history were difficult weather conditions including standing water on the special stages made the going tricky, James Wilson from Keady and his Derry co-driver Gavin Doherty in their Philip White Tyres backed Peugeot 208 R2 took the R2 category victory and the Irish Tarmac Championship class.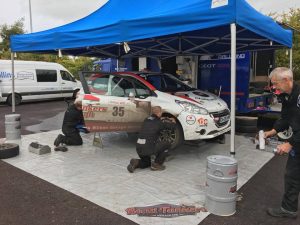 It's a championship win which earns them a free entry to a Belgian Championship event. The battle was on all weekend between James and the similar 208 R2 of Belfast's William Creighton, in a winner takes all scenario. It was Creighton who took the lead initially opening up a 31 second advantage over James after day one. Things took a turn for the worse for the Philip White Tyres backed team on Sunday morning when a brake pipe fractured and two minutes were lost to class leader Creighton. It seemed all over for James and Gavin.
But Cork had a final twist, and it was Creighton's turn to have misfortune, retiring after over-turning the 208 in the treacherous conditions. So James and Gavin survived the sixteen tough tests to take victory, in their first season with R2 power. "It's been such a tough weekend, very hard to push all the time in the conditions and there were many casualties. We thought it was all over on Sunday morning, but rallying is a funny sport and we got to the finish. It's fantastic to win this category, and take the prize, and a big thanks to all my sponsors including Philip White Tyres whose assistance has been invaluable. Also thanks to the team who have worked hard all year " said James.